Pagpapahalaga 2023
Call for Participants
ARTguro's Biennial exhibit celebrating art teachers from all over the Philippines is back! And we want you, artguro, to be part of it!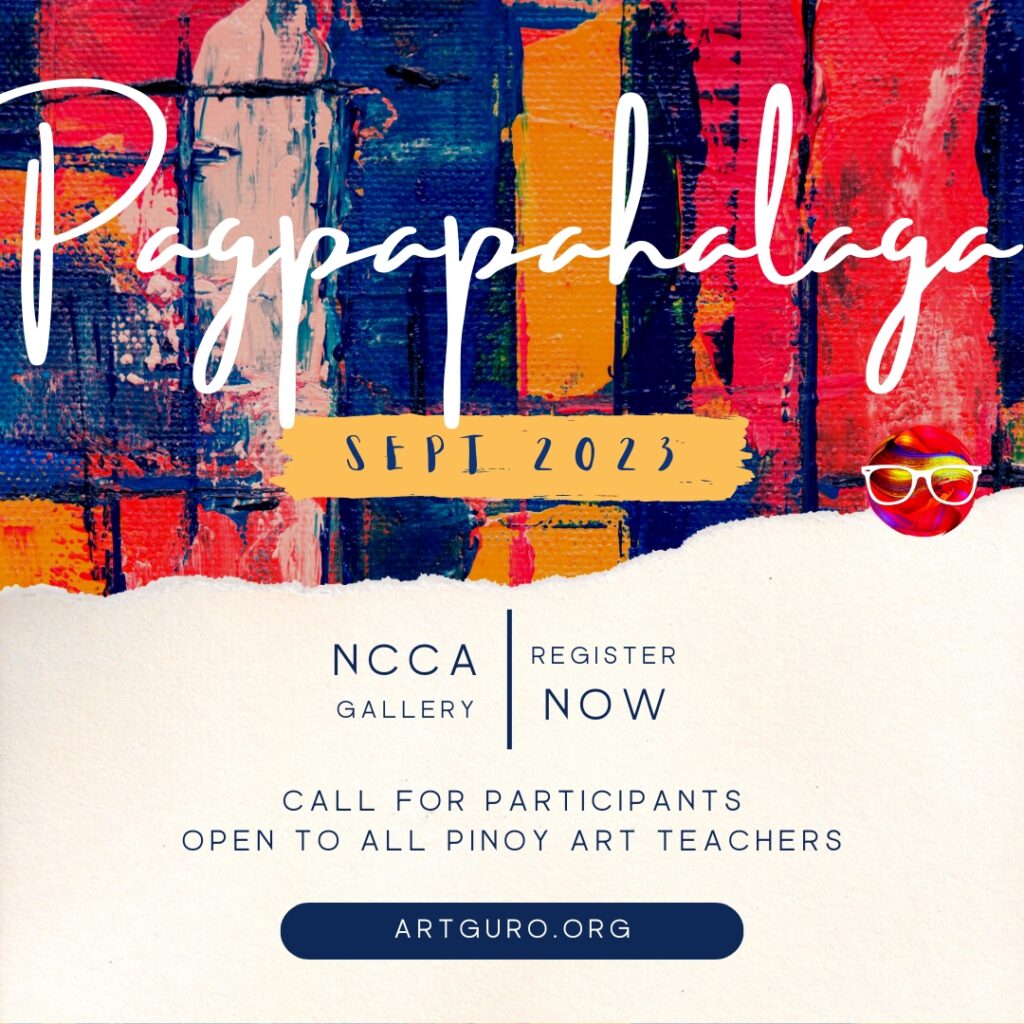 Opening National Arts Month with a Bang!

ARTguro's biennial exhibit celebrating Pinoy art teachers is back and will be opening its doors at the NCCA Gallery in September 2023. Open to all members of the artguro community, register today!

Join us to make art, and celebrate art.
---
Pagpapahalaga is an artguro sponsored exhibit that opens every two years, seeking to empower and inspire Filipino art teachers from all over the country. Check our 2021 exhibition!
This exhibit seeks to celebrate each and every Filipino art teacher who nurtures, teachers and cultivates love in the arts for their students.
Pagpapahalaga 2023 wishes to inspire even more teachers to take up the call of arts education, and to celebrate all the amazing people who teach with passion, who work tirelessly for their students, and who are shaping the future of Filipinos. This year, Pagapapahalaga will be exhibited at NCCA Gallery, the highly esteemed art space of the National Commission for Culture and the Arts in Intramuros, Manila.
Your work will be exhibited alongside fellow art teachers from all over the Philippines, and will be showcased in a printed art book for the exhibition.
– Your artwork must on the theme of: "Hope from Filipino Art Teachers"/"Pagasa Mula sa mga Guro ng Sining"
– Any medium is acceptable; paintings, sculptures etc.
– Minimum size is 18 x 18in
– Maximum size is 48 x 48in
– Each artist may submit a maximum of 2 artworks for exhibition
Dates to Remember:
– images of the artworks must be submitted by June 30, 2023 in order to be added in the exhibition art book.
– resumes/CVs of the art teacher must be emailed to: connect@artguro.org by Feb 13, 2023 (this is for compliance to NCCA policies)
– artworks must be delivered to NCCA Gallery by Sept 2, 2023 *round trip shipping fees of artworks will be reimbursed via our NCCA Grant
Do register even if you are not yet 100% sure in order to ensure that we can save a spot for you.

This exhibition is open to ARTguro Philippines Facebook Group members! Please make sure you are a member in order to join.
Opening Date of exhibition is on September 6, 2022, with a formal artists reception, workshop and catering will be held on September 28, 2022.
This exhibition is completely free and open to ARTguro Philippines members. 100% of artwork sales will remitted to the artist-teacher participants.

Click the Register button to join the exhibit!
Got a project in mind you want to do for fellow artguros?
Let us know and we will help you find support where you need it!
Ⓒ2023 Cathy Lasam Ballo. All Rights Reserved.