ARTguro is deeply honored to not only to be participant and organizer of this exhibition that seeks to educate and to highlight the plight of Philippine endangered species; but also have the privilege of being the Master of Ceremonies at the virtual exhibit opening last November 23, 2021!
The Balangay Artists Associates (BAA), a visual-cultural organization dedicated to holistic creative arts, holds an art exhibition — Mandala: Tessellation of Cultures on Nov. 23 to 29, 2021 at the Asian Center, UP Diliman. The exhibition is made possible through efforts of the Asian Center Dean Hennyjun Sevilla, Phi Kappa Phi UP Chapter 045, and the Agusan Artists' Association.
The Mandala has always been a symbol of spirituality, meditation and harmony. Just like the Mandala, 25 artists of the BAA bloomed amid the pandemic situation and created these flower-like artworks of beauty and color. These paintings will be displayed at the Asian Center and will also be showcased virtually.
Participating artists include; Amihan de Sosa, Ams Tolentino, Anoy Catague, Carlito Amalla, Cathy Lasam, Chito Alegre, Chris Tames, Dan Macapugay, Dante Palmes, Diana Alferez, Flor Baradi, Gabi Nazareno, Jojo Ballo, Kathleen Dagum, Lance Roblando, Lea Zoraina Lim, Liby Limoso, Malaya Roxanne Santos, Marwenette Dalacan, Noe Ponadora, Ritchie Yee, Ronnie Rudinas, Vanessa Tan Gana and Zen Ortiz. In line with the theme of the exhibit to spread harmony to all, part of the proceeds of this exhibition will be donated to charity specifically the underprivileged beneficiaries of Luntiang Kalasag Community Garden. This initiative is likewise concurrent with the mission of the BAA and ARTguro to serve and empower the Filipino community.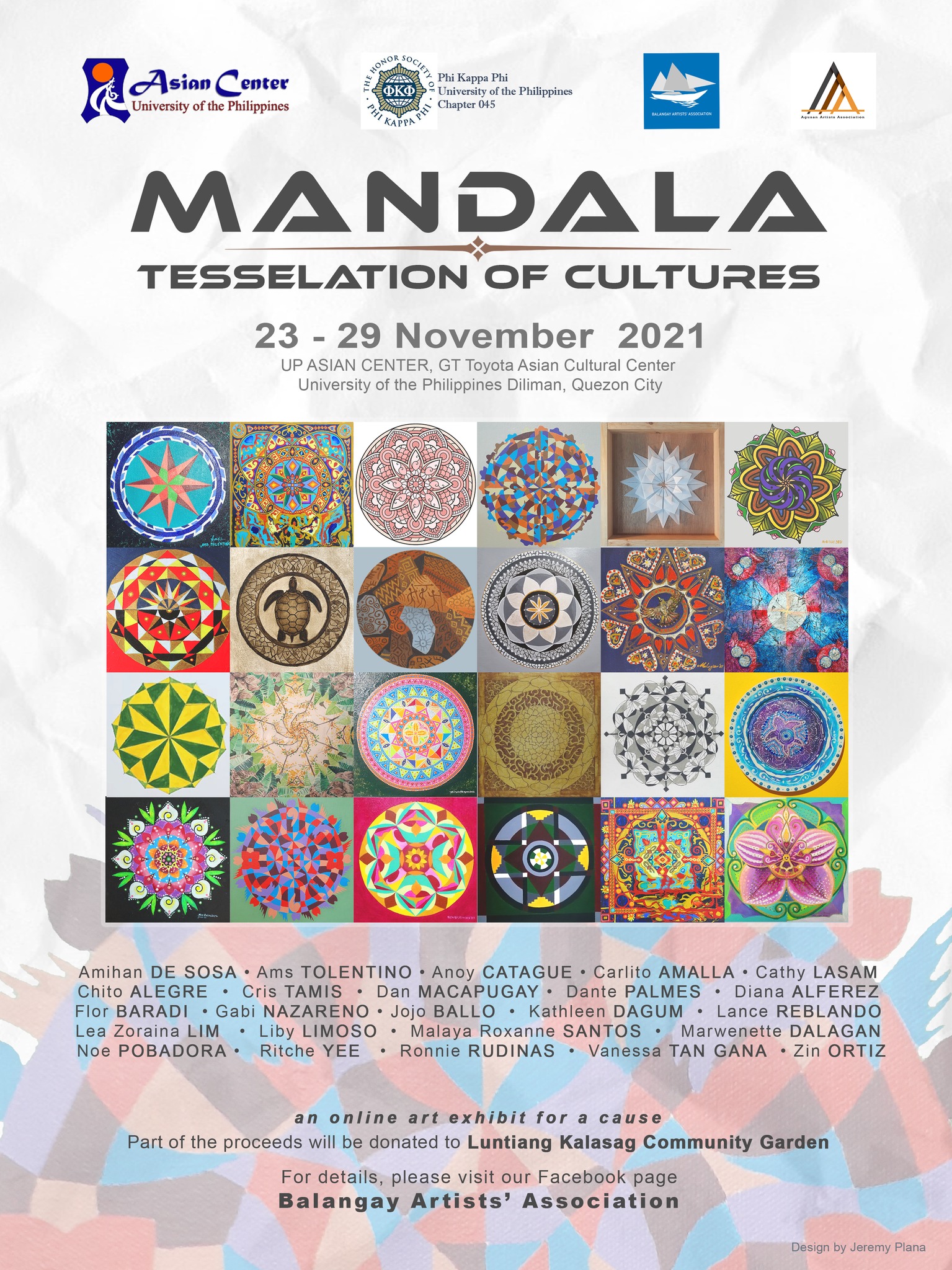 Our exhibition continues with a talk on Mandalas, Tessellations and our Culture on Saturday, November 27, 2021 at 3PM. ARTguro and Balangay Artists Association – BAA's Event would like to invite you to the Artists' Talk of our Mandala: Tessellation of Cultures Exhibit. 25 artists will share their works and thoughts, and there will be opportunities for Q&A. The Talk will be held virtually via Zoom.
We would like to again thank the UP Asian Center and Dean Hennyjun Sevilla, for this opportunity and for your invaluable guidance. Many thanks as well to all the artists in this network who contributed so much towards the success of this project.
---
See more artguros in action!
Ⓒ2023 Cathy Lasam Ballo. All Rights Reserved.