The ARTguro Biennial
🎨 Exciting News! We are inviting you to Pagpapahalaga 2023 🎉
In honor of National Teachers Month, we are thrilled to present an extraordinary celebration of creativity and inspiration! Join us as we shine a spotlight on the incredible Filipino art teachers who have dedicated themselves to nurturing the artistic talents of our future generations. 🖌️🇵🇭
Pagpapahalaga Mula sa mga Guro ng Sining
These unsung heroes have not only imparted their knowledge but have also ignited hope through their artistry. The artworks showcased in this exhibit embody their passion, dedication, and the transformative power of art education. Each brushstroke, every color choice, and all the intricate details carry a story of hope and resilience.
🗓️ Exhibition opens on September 5, 2023 and runs until September 30
🗓️ Exhibition Program & Artists Reception on September 28, 2023 | 6pm All are invited!
📍 Venue: NCCA Gallery 633 General Luna St, Intramuros, Manila, 1002 Metro Manila, Philippines
⏰ Gallery Hours: Mondays to Sundays, 9am – 6pm
Let's come together to honor these exceptional individuals who have shaped the creative landscape of our nation. Join us in celebrating the profound impact of Filipino art teachers and the hope they inspire through their craft.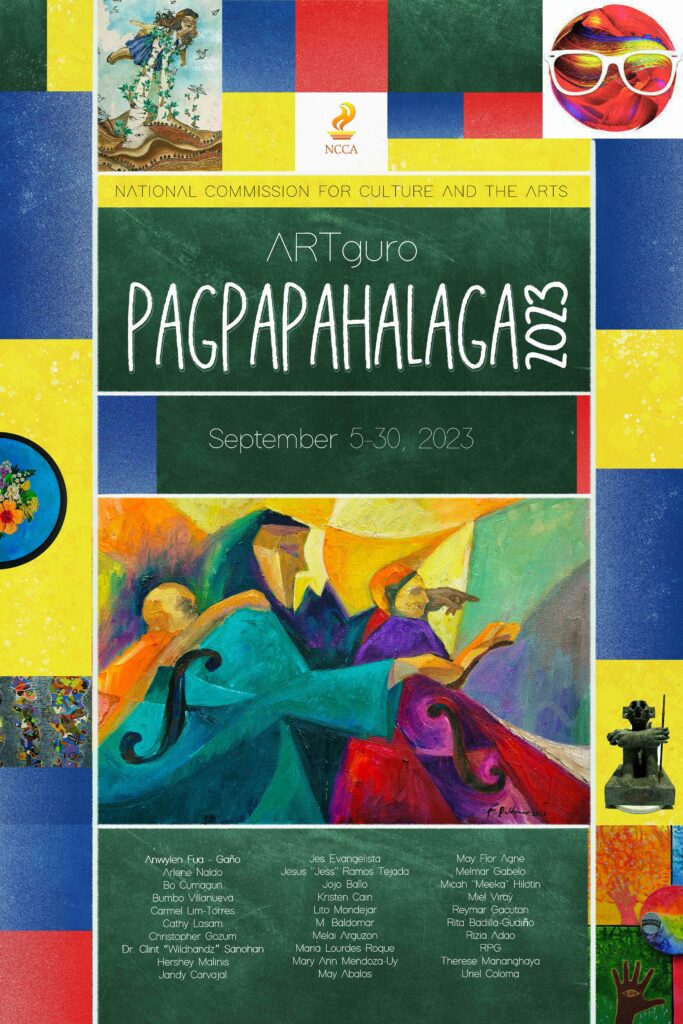 Spread the word, share the love, and mark your calendars for this unforgettable event! 🎈 Don't miss out on the chance to immerse yourself in a world of creativity, passion, and the boundless potential that art brings.
Stay tuned for more updates, free workshops, webinars and sneak peeks as we count down to the grand opening of Pagpapahalaga 2023 as we celebrate our artguros. See you there! 🎊👩‍🎨👨‍🎨 #ARTguroPhilippines #NationalTeachersMonth #Pagpapahalaga2023 #ArtguroKami
Learn more about the Pagpapahalaga Exhibitions.
Read more information ARTguro and how you can be part of the positive change your community needs.
Ⓒ2023 Cathy Lasam Ballo. All Rights Reserved.